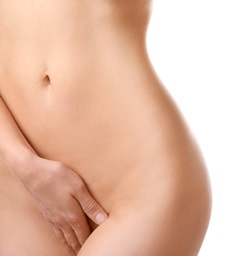 If you feel self conscious about skin discoloration in your vaginal area, you're not alone. Many women feel the same way.
In fact, vaginal bleaching has become pretty common these days. Due mainly to the rapid increase in the number of women getting Brazilian waxes or laser hair removal and then discovering that the skin in this area is a darker color than the surrounding skin.
Initially, this was something that only porn stars and strippers did. Then, along with anal bleaching, many well known celebrities started adopting this beauty practice and openly talking about it.
The topic of intimate area bleaching has been discussed in many reality TV shows, movies and popular magazines. And now, for quite a few years, many regular women and men have been lightening their private areas too.
What is Vaginal Bleaching?

The term vaginal bleaching sounds a bit harsh and it really doesn't accurately describe the procedure at all. First of all no actual bleach is used and nothing is applied internally. The process involves the gentle lightening of the vulva and the labia, the external parts of the genitals, not inside the actual vagina itself.
What Causes the Skin in Your Vaginal Area to Darken?

Darkening in this area is very common and can occur over time due to a number of reasons. Hormonal changes, pregnancy and child birth, aging, sweating and chafing are all contributing factors. Just a normal part of life. Some women won't be bothered by these changes at all. However, if this is something that concerns you, there are safe and easy solutions for vaginal bleaching.
What Vaginal Bleaching Options are Available?

There are several different safe and effective options for anyone wanting to lighten their vaginal area. There are methods you can do yourself at home and there are procedures that will require a visit to a qualified technician or medical doctor.
Whatever method you choose, will depend to some extent on your budget and also whether or not you mind baring everything to a total stranger.
Homemade Skin Lightening Remedies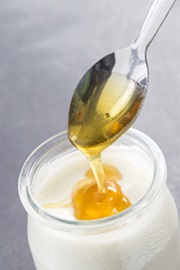 People have been using home remedies for skin lightening for many years. There are lots of common and inexpensive natural ingredients such as lemons, potatoes, turmeric and yogurt that can be used to naturally lighten the skin on any area of your body.
This would be the least expensive option for lightening up your vaginal area. However patience and persistence will be needed to see results. We have more information here about homemade natural skin lightening remedies.
Intimate Area Lightening Creams and Serums
The second least expensive option (and the easiest) for vaginal bleaching, is to use a lightening cream or serum. If you choose this method, it is very important to choose a product that has been designed specifically for intimate areas. As general skin lightening products may be a bit too harsh.
It's also very important to steer clear of products which contain potentially harmful ingredients such as mercury, steroids and hydroquinone. You can read an article here which has more information about our favorite intimate lightening cream. And why it is our preferred choice.
This method will work more quickly than home remedies, however some patience is still needed. It usually takes at least a couple of weeks before you start noticing a difference and six weeks or so before you see marked results.
You can either do this method yourself at home, or you can get it done at a beauty spa or salon. Some salons also use a type of chemical skin peel on your first visit, to help accelerate results.
Laser Vaginal Lightening
This is the most expensive option for lightening up the area around your vagina. However it is also the quickest method to show results, with most people noticing a change after the first session. Usually three or four sessions are needed, costing several hundred dollars each time.
The sessions usually take between 15 and 30 minutes. The area will be numbed with a general anesthetic first, so as not to cause discomfort. You need to be extra careful as far as hygiene goes, following each session, as there is a small risk of infection. You also need to wait at least two weeks between sessions to allow the area to heal properly.
This type of vaginal bleaching procedure can only be done by a qualified cosmetic technician.